Laboratory Small Table-top Vacuum Freeze Dryer Lyophilizer
Product Detail
Product Tags
● Integral structure design, small volume, easy to use, no leakage.
● All materials in contact with the product are made of inert materials, which meet GLP requirements.
● Cold trap and drying rack made of stainless steel, corrosion resistant, easy to clean
● Large opening of cold trap, no inner coil, with sample pre-freezing function, no need for low temperature refrigerator.
● Specialized gas diversion technology, cold trap ice uniform, ice catching ability is strong.
● International famous brand compressor, high efficiency, energy saving, long service life, low noise.
● Famous brand vacuum pump, pumping speed, to achieve higher limit vacuum degree.
● Vacuum pump protection function, can set the vacuum pump starting cold trap temperature, protect the service life of the vacuum pump.
● 7 inch true color industrial embedded touch screen +SH-HPSC-II modular controller, high control precision, stable and reliable performance.
● Intelligent data recording system, real-time record and display cold trap temperature curve sample temperature curve, vacuum degree curve, exported data can be viewed and printed through the computer and a variety of operations.
● Set the user level permission password to access the operation management by permission.
● The powerful sensor calibration function ensures the accuracy of the measured value for long term use.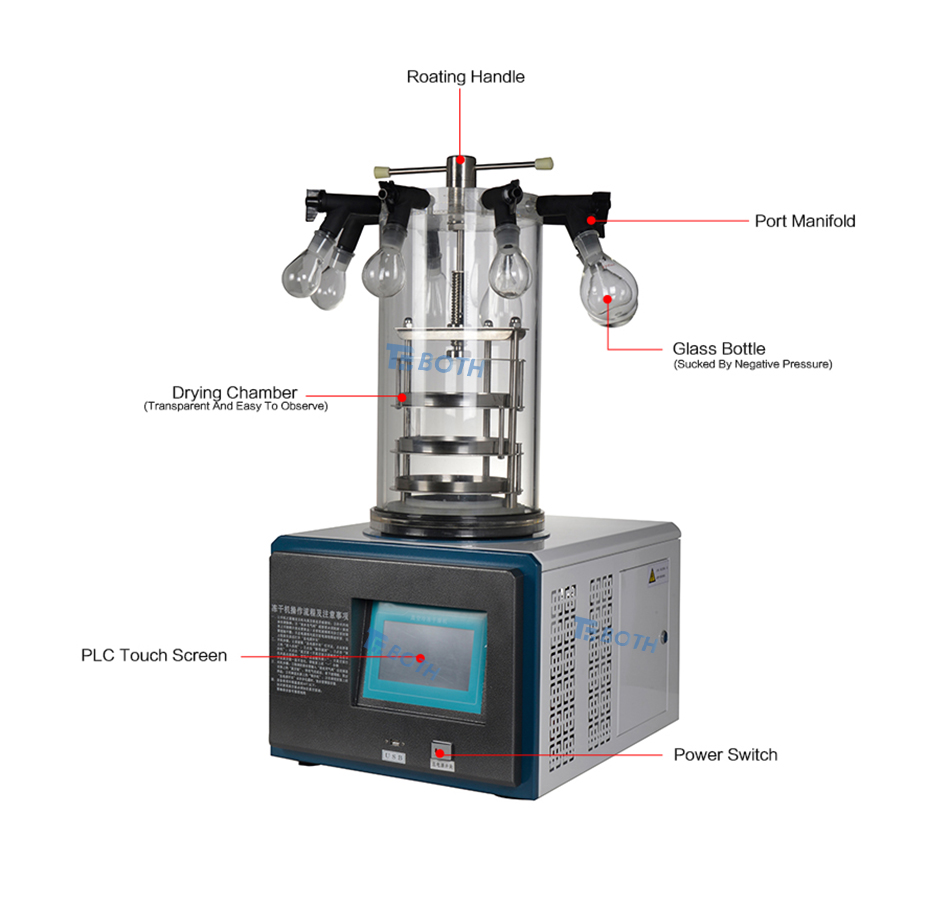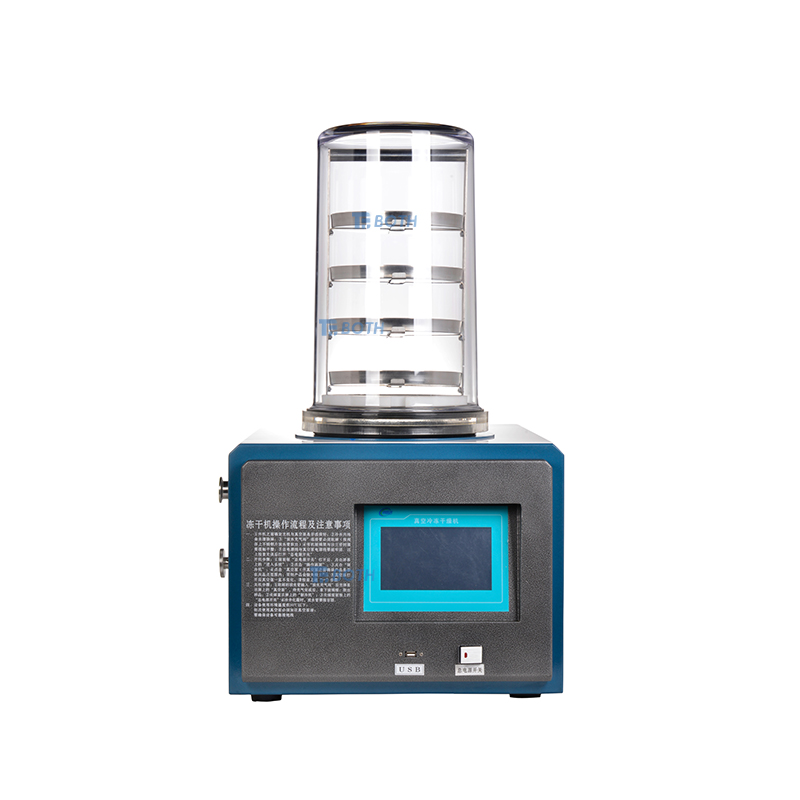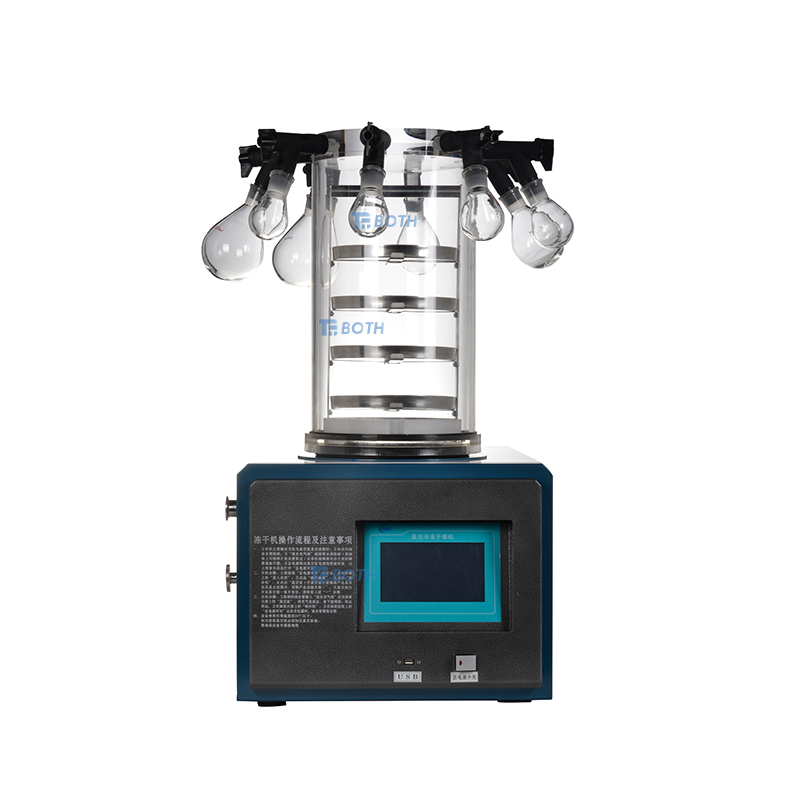 ZLGJ-10
Standard Chamber with 8 Port Manifold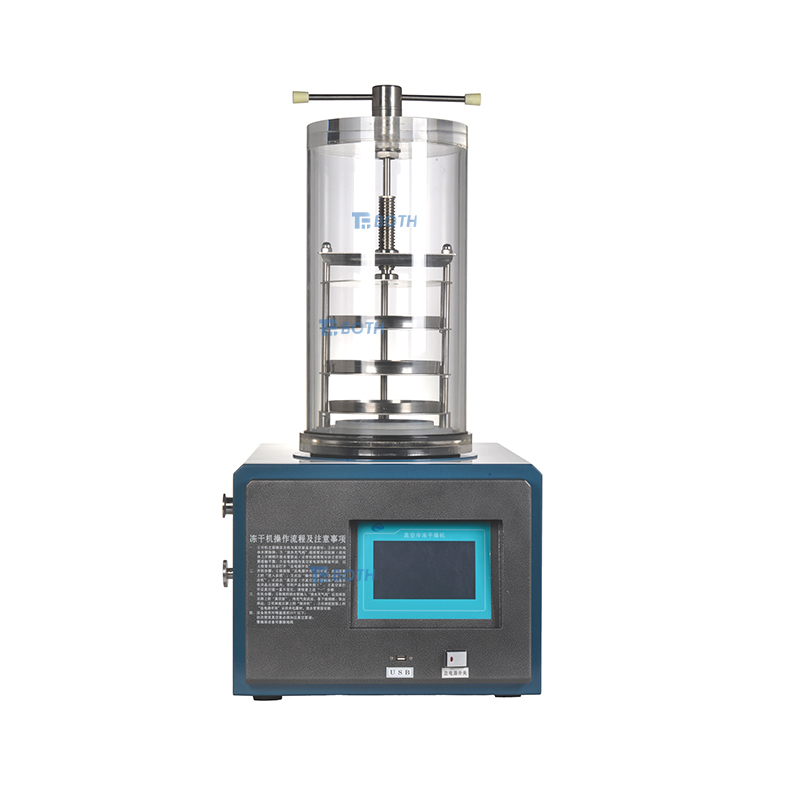 ZLGJ-10
Stoppering Chamber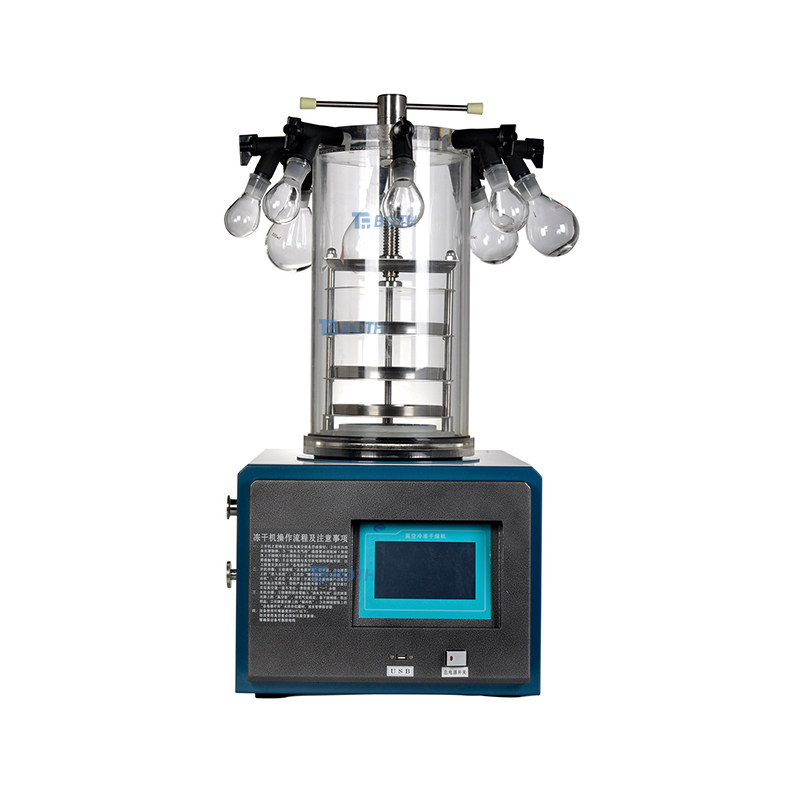 ZLGJ-10
Stoppering Chamber with 8 Port Manifol
Model

ZLGJ-10




Standard Chamber

ZLGJ-10




Standard Chamber with 8 Port Manifold

ZLGJ-10




Stoppering Chamber

ZLGJ-10




Stoppering Chamber with 8 Port Manifold

Freeze-dried Area(M2)

0.1㎡

0.08㎡

Cold Trap Coil Temperature(℃)

≤-55℃(no load)、Optional-80℃ (no load)

Ultimate Vacuum(pa)

< 5 Pa (no load)

Pumping Rate(L/S)

2L/S

Water Catching Capacity(Kg/24h)

3-4kg/24h

Type Of Cooling

Air Cooling

Defrosting Mode

Natural Defrosting

Main Engine Weight(Kg)

48kg

Main Engine Size(mm)

520*600*400(mm)

Total Power(W)

950W

Material Tray(mm)

4 material plates the diameter of the plates is Ø180 mm, the spacing between the plates is 70mm.

3 material plates the diameter of the plates is Ø180 mm, the spacing between the plates is max 70mm.

Nightshade Flask

/

Eggplant Type Flask 8 pieces of 100ml/150ml/250ml/500ml two each

/

Eggplant Type Flask 8 pieces of 100ml/150ml/250ml/500ml two each

Bottles of Chinicillin

penicillin bottle Ø12mm:920 pieces penicillin bottle Ø16mm:480 pieces penicillin bottle Ø22mm:260 pieces

penicillin bottle Ø12mm:560 pieces penicillin bottle Ø16mm:285 pieces penicillin bottle Ø22mm:165 pieces

Environment Temperature (℃)

10°C~30°C

Opposite Temperature

≤70%

Power Supply

Single Phase 220V±10%   50HZ

Working Environment

Working Environment Should be Free From Conductive Dust, Explosive, Corrosive Gas, and Strong Electromagnetic Interference.

Transportation Storage Conditions Ambient Temperature(℃)

-40°C~50°C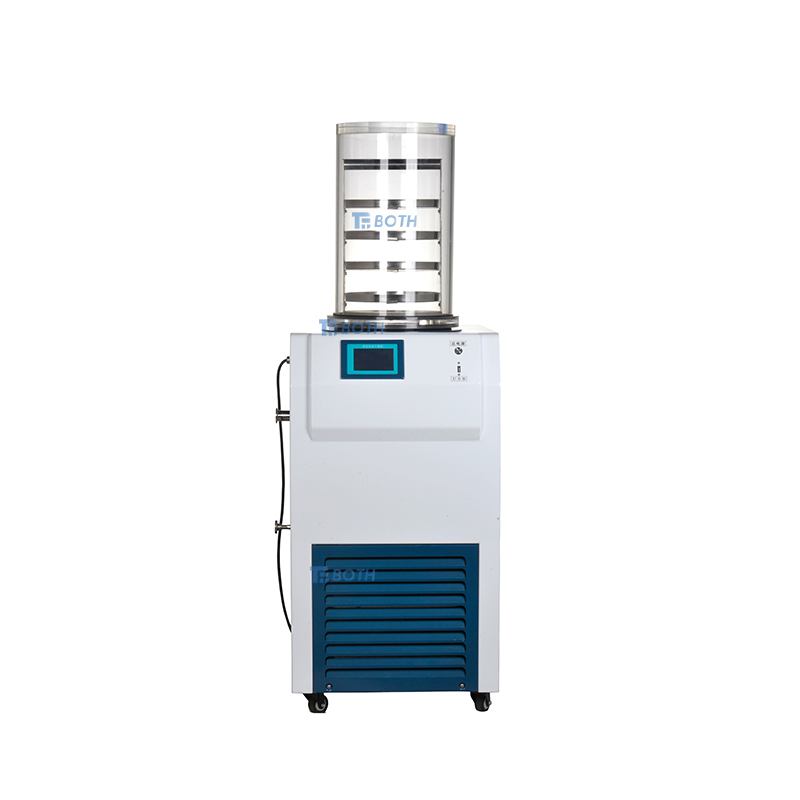 ZLGJ-12 /18
Standard Chamber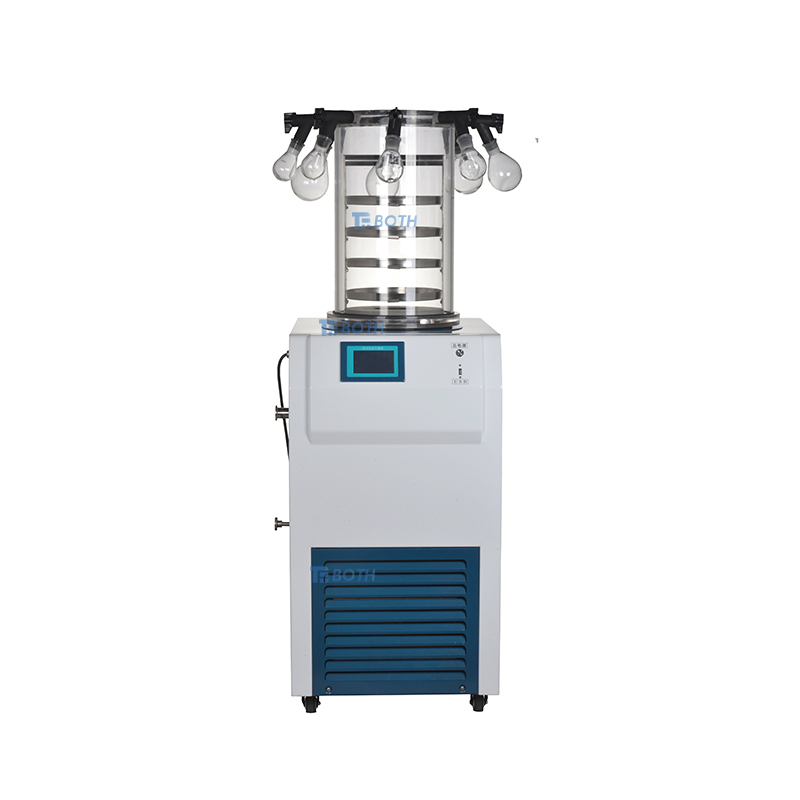 ZLGJ-12/18
Standard Chamber with 8 Port Manifold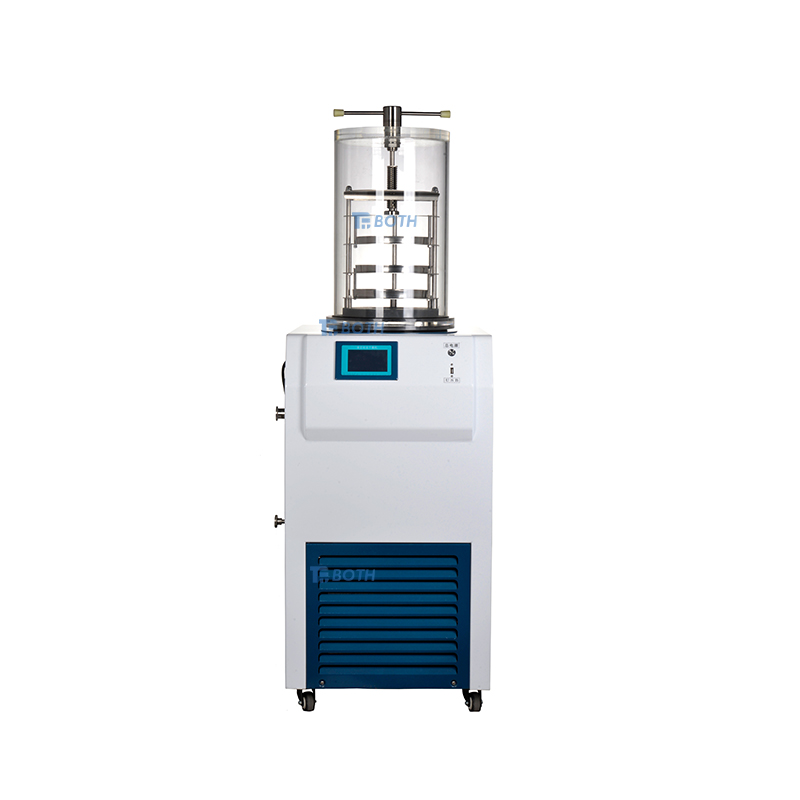 ZLGJ-12/18
Stoppering Chamber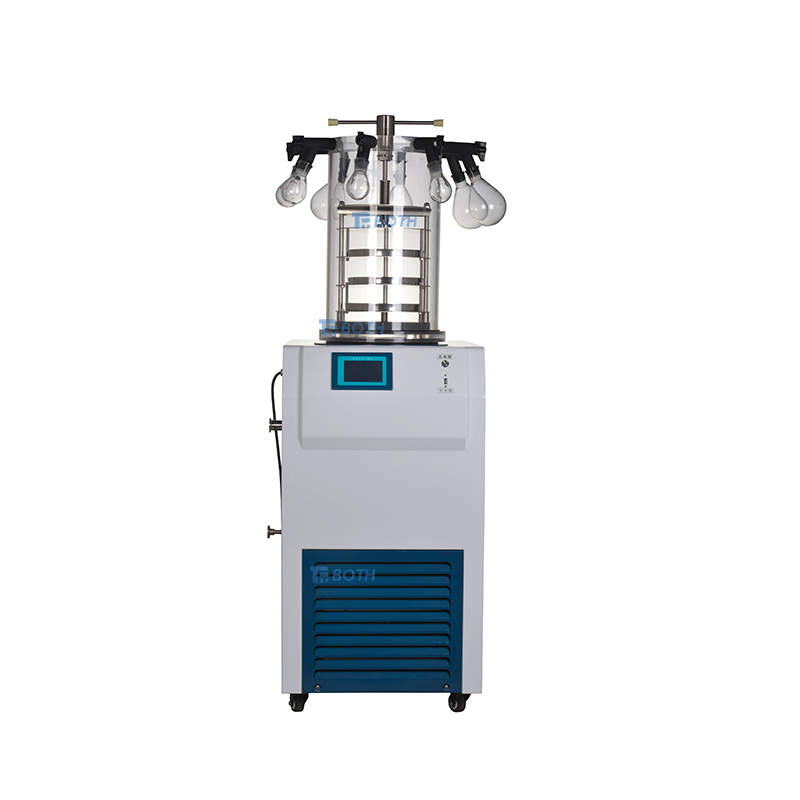 ZLGJ-12
Stoppering Chamber with 8 Port Manifold
Model

ZLGJ-12




Standard Chamber

ZLGJ-12




Standard Chamber with 8 Port Manifold

ZLGJ-12




Stoppering Chamber

ZLGJ-12




Stoppering hamber with 8 Port Manifold

Freeze-dried Area(M2)

0.12㎡

0.08㎡

Cold Trap Coil Temperature(℃)

≤-55℃(no load)、Optional-80℃ (no load)

Ultimate Vacuum(pa)

< 5 Pa (no load)

Pumping Rate(L/S)

2L/S

Water Catching Capacity(Kg/24h)

3-4kg/24h

Type Of Cooling

Air Cooling

Defrosting Mode

Natural Defrosting

Main Engine Weight(Kg)

63kg

Main Engine Size(mm)

600*480*770(mm)

Total Power(W)

950W

Material Tray(mm)

4 material plates the diameter of the plates is Ø200 mm, the spacing between the plates is 70mm.

3 material plates the diameter of the plates is Ø180 mm, the spacing between the plates is max 70mm.

Nightshade Flask

/

Eggplant Type Flask 8 pieces of 100ml/150ml/250ml/500ml two each.

/

Eggplant Type Flask 8 pieces of 100ml/150ml/250ml/500ml two each.

Bottles of Chinicillin

penicillin bottle Ø12mm:920 pieces;penicillin bottle Ø16mm:480 pieces; penicillin bottle Ø22mm:260 pieces

penicillin bottle Ø12mm:560 pieces; penicillin bottle Ø16mm:285 pieces; penicillin bottle Ø22mm:365 pieces

Environment Temperature (℃)

10°C~30°C

Opposite Temperature

≤70%

Power Supply

Single Phase 220V±10%   50HZ

Working Environment

Working Environment Should be Free From Conductive Dust, Explosive, Corrosive Gas, and Strong Electromagnetic Interference.

Transportation Storage Conditions Ambient Temperature(℃)

-40°C~50°C
Model

ZLGJ-18




Standard Chamber

ZLGJ-18




Standard Chamber with 8 Port Manifold

ZLGJ-18




Stoppering Chamber

ZLGJ-18




Stoppering Chamber with 8 Port Manifold

Freeze-dried Area(M2)

0.18㎡

0.09㎡

Cold Trap Coil Temperature(℃)

≤-55℃(no load)、Optional-80℃ (no load)

Ultimate Vacuum(pa)

< 5 Pa (no load)

Pumping Rate(L/S)

4L/S

Water Catching Capacity(Kg/24h)

6kg/24h

Type Of Cooling

Air Cooling

Defrosting Mode

Natural Defrosting

Main Engine Weight(Kg)

88kg

Main Engine Size(mm)

560*560*980(mm)

Total Power(W)

1100W

Material Tray(mm)

4 material plates(optional 6 material plates) the diameter of the plates is Ø240 mm, the spacing between the plates is 70mm.

3 material plates the diameter of the plates is Ø200 mm, the spacing between the plates is max 70mm.

Nightshade Flask

/

Eggplant Type Flask 8 pieces of 100ml/150ml/250ml/500ml two each.

/

Eggplant Type Flask 8 pieces of 100ml/150ml/250ml/500ml two each.

Bottles of Chinicillin

penicillin bottle Ø12mm:1320 pieces; penicillin bottle Ø16mm:740 pieces; penicillin bottle Ø22mm:540 pieces

penicillin bottle Ø12mm:990 pieces; penicillin bottle Ø16mm:555 pieces; penicillin bottle Ø22mm:360 pieces

Environment Temperature (℃)

10°C~30°C

Opposite Temperature

≤70%

Power Supply

Single Phase 220V±10%   50HZ

Working Environment

Working Environment Should be Free From Conductive Dust, Explosive, Corrosive Gas, and Strong Electromagnetic Interference.

Transportation Storage Conditions Ambient Temperature(℃)

-40°C~50°C
---
---
Write your message here and send it to us